Tablelamps2GO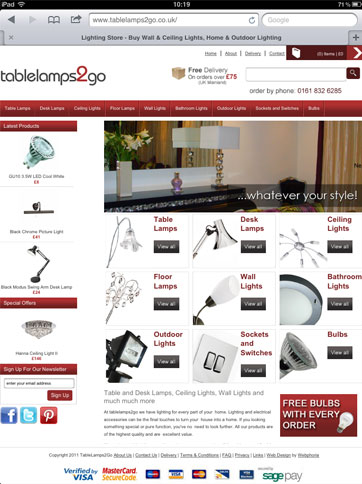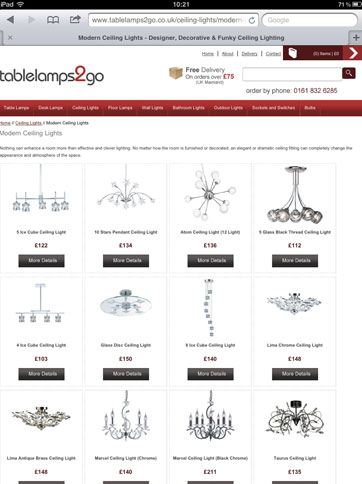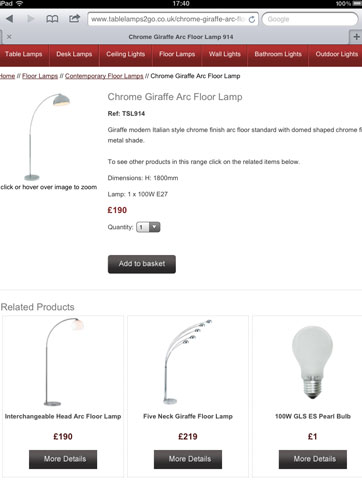 GET IN TOUCH
If you'd like to discuss how we can help you achieve your online goals, please get in touch:
t: 0161 881 9711
e: info@webphoria.co.uk
REQUEST A
CALL BACK
Don't call us we'll call you!
The Brief
Having visited their store to purchase some lighting for the office we were dismayed to see the state of their online shop.
Built on an old oscommerce template the site looked dated and performed badly in the search engines.
After a discussion with the management we pitched a new offering and won the work.
What We Did
The first thing we did was to rebuild the logo giving it a new vibrancy but following the design cues from the existing one. This was done so as not to interfere with current brand.
The website design followed and after researching the industry in detail and their primary competitors we designed a clean and functional website with a number of bespoke features including:
Automatic email generation
Move from Sagepay Form to Sagepay Direct
Cross selling capabilities
Advanced Ordering System
Management Reporting
Automated Google Feed
SEO friendly URLs
Automated image resizing
The End Result
The site has already generated more sales per month than the previous site managed which is a testament to the refined navigation and ordering process.
Users no longer have to login to place an order – pre-registration is often cited as the reason a user wont place an order and we have by-passed this requirement with a simplified checkout and payment module.
Testimonial
"Webphoria did a fantastic job redeveloping our old website and even imported the database from our old site. The auto resizing function works great and means products get listed in seconds rather than minutes. We have been so impressed with Webphoria that we have commissioned them to re-develop our corporate site too."
S.Khalid
Managing Director