SOS Secure and Protect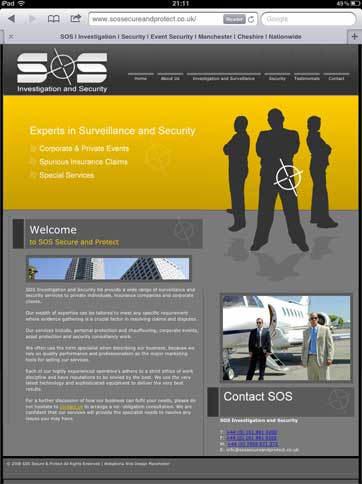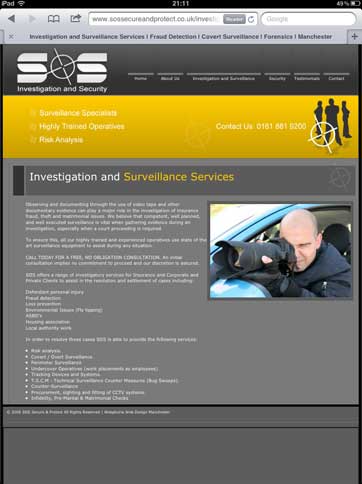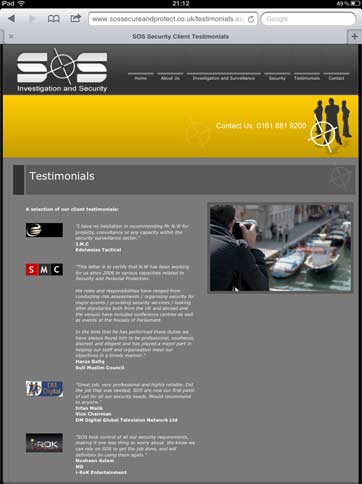 GET IN TOUCH
If you'd like to discuss how we can help you achieve your online goals, please get in touch:
t: 0161 881 9711
e: info@webphoria.co.uk
REQUEST A
CALL BACK
Don't call us we'll call you!
The Brief
SOS have been working in the event and private security industry for many years but had never had a web presence.
The brief was to find a suitable domain name, redesign the logo and produce a fully optimised website that would attract new customers.
What We Did
We helped SOS redesign their logo as well as set out a framework for their website.
We sourced high quality stock photography for use on the website and on the their printed literature.
Finally we did all the copywriting on the website to ensure the site was well written for both humans and those pesky search engine spiders.
The End Result
The site is functional, easy to use and appealing to the eye.
SOS have since won a number of new contracts and added a number of celebrity clients to their portfolio.
The site has been gaining in popularity and is showing up well in the search engines for their primary keywords "event security manchester".