Maximum Justice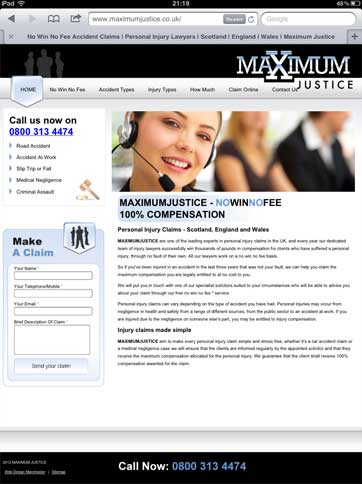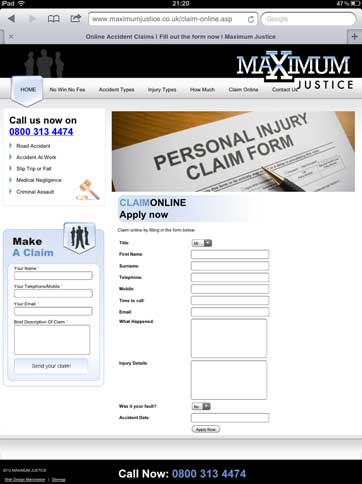 GET IN TOUCH
If you'd like to discuss how we can help you achieve your online goals, please get in touch:
t: 0161 881 9711
e: info@webphoria.co.uk
REQUEST A
CALL BACK
Don't call us we'll call you!
The Brief
Having seen our work on other personal injury websites Maximum Justice approached Webphoria about producing a logo and website for them.
We duly accepted the challenge and got to work on the site.
What We Did
The first step was to create a brand for the business. The name Maximum Justice screamed out for a strong identity and we experimented with a number of different fonts and colours before settling on a strong black and blue combination.
After researching the combination and discussing with the client what he liked and didnt like about other personal injury websites we created a strong design for the site.
A few minor tweaks later and the design was signed off and we quickly completed the build ready for images and copy.
As with all our sites we did a good search engine optimisation on the site and submitted it to Google.
The End Result
The site has had a great reception from the client and his associates. The feedback has been that the site has a strong identity, is easy to navigate and use.
We have added Google Tracking Code so we can start monitoring the sites traffic and effectiveness.
Testimonial
"Webphoria have been extremely supportive and really know their stuff when it comes to Personal Injury websites. Their experience and expertise in this field has been invaluable and we have based our whole marketing strategy on their advice."
Gordon
Director
Maximum Justice