Goody4Paws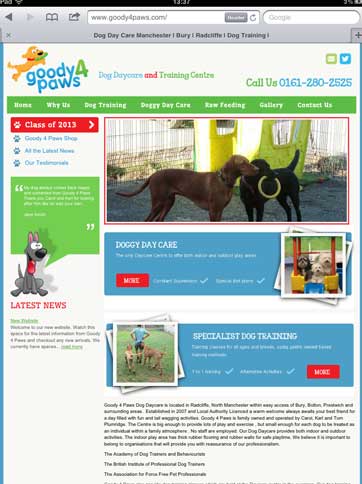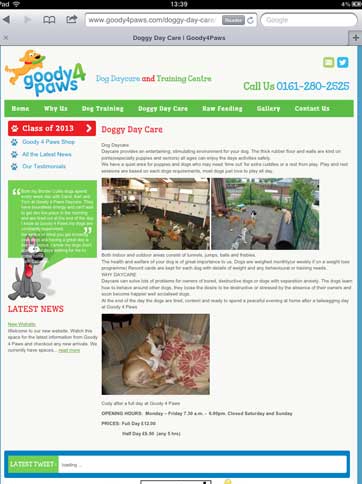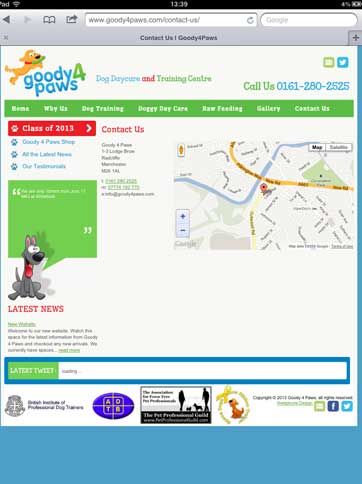 GET IN TOUCH
If you'd like to discuss how we can help you achieve your online goals, please get in touch:
t: 0161 881 9711
e: info@webphoria.co.uk
REQUEST A
CALL BACK
Don't call us we'll call you!
The Brief
Goody4Paws are a Radcliffe based doggy day care centre. They approached Webphoria with a view to redesigning their entire business branding and website. Their existing website was dated and cumbersome to modify and they wanted a fresh and innovative new site to go along with their expanding business.
What We Did
The first thing to address was the branding – we proposed a number of options for them to choose from and between us agreed on the new "dog with a frisbee" logo which helps emphasise the playful and fun nature of the Goody4Paws business.
The website was built using pure CSS and HTML with a customised WordPress CMS system. The CMS is easy to use and lets them add/edit/delete pages, update the news, add gallery images, update courses and has an Paypal integrated shopping cart system.