European Tiles Direct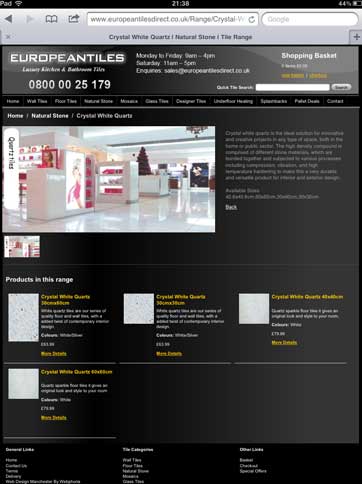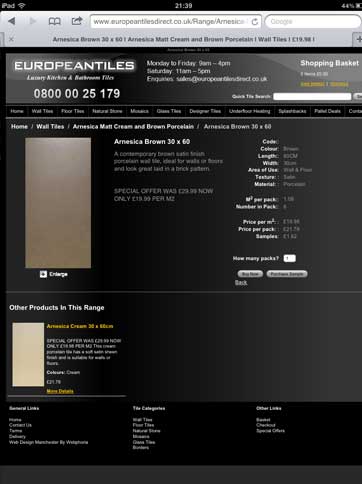 GET IN TOUCH
If you'd like to discuss how we can help you achieve your online goals, please get in touch:
t: 0161 881 9711
e: info@webphoria.co.uk
REQUEST A
CALL BACK
Don't call us we'll call you!
The Brief
After approaching a local company and being disapointed with the work done European Tiles Direct noticed the Webphoria link on a another site we had developed and approached Webphoria to help them develop a website to display their large range of luxury tiles.
The client was looking for a new logo and website that screamed quality and luxury to reflect the quality of the product range.
What We Did
The first step was to redevelop the logo into something fresh and contemporary which shouts luxury and exclusivity.
The site was originally only going to be a brochure site focusing purely on displaying their product range.
After some discussions we convinced the owner that flash was not the way to go and that the site would be better suited as an ecommerce site with elements of flash.
Using our custom built ecommerce software we adapted it to work perfectly for their business. Additional features such as image zoom features and custom scrollers were employed to ensure the site stood out from the pack.
The End Result
The design of the site exudes luxury, the black and silver theme complements the logo perfectly. The ecommerce software generates fully search engine optimised pages which are already ranking well in Google.
In fact the site achieved page 1 rankings within 2 weeks of it going live for their primary keywords and continues to improve as Google indexes the pages further.
Testimonial
"Webphoria exceeded all of our expectations – the site made its first sale really quickly after going live and continues to generate enquiries and brochure requests. We wish to thank the team at Webphoria for all their hard work and professional attitude. We are absolutely thrilled with the end result."
Roberto Mallia
European Tiles Direct