Bargain Max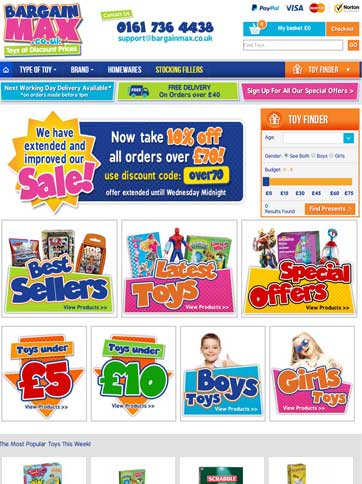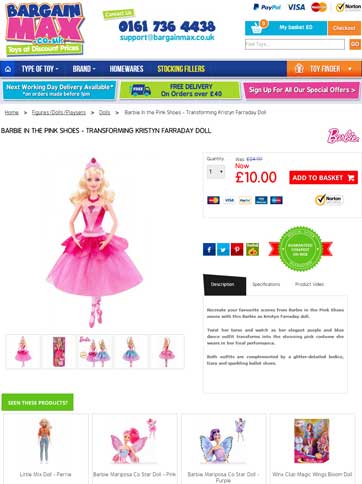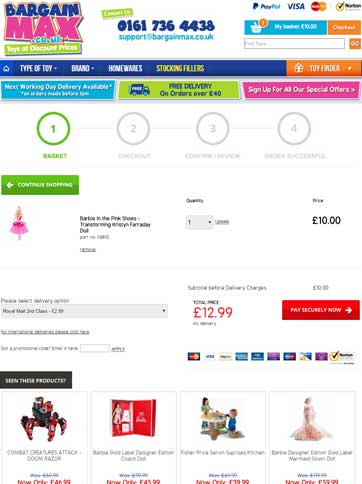 GET IN TOUCH
If you'd like to discuss how we can help you achieve your online goals, please get in touch:
t: 0161 881 9711
e: info@webphoria.co.uk
REQUEST A
CALL BACK
Don't call us we'll call you!
The Brief
When the guys at BargainMax went looking for an agency to help them develop their new online store they did the rounds of competing agencies before remembering that Webphoria had previously done a sterling job on another project some years ago. The aim was to design and develop an online shop that integrated into their stock control system Linnworks. Off the shelf packages just wouldnt cut the mustard which is why they chose a bespoke offering from Webphoria.
What We Did
We started by redesigning their logo which was causing some confusion to their customers as to whether it was Max Bargain or Bargain Max.
Next we set about designing a flexible ecommerce framework that could grow with the business and accomodate a wide range of products – not just toys.
Utlising our bespoke built ecommerce platform we added a number of custom features including:
Linnworks compatible stock control and ordering system
Sagepay and Paypal payment methods
Advanced product filtration modules
Multiple delivery options
Invoicing and Management reports as well as all the other features standard in our ecommerce platform.
Designed a Mailchimp mail shot template
The End Result
The site went live just in time for the Xmas rush and proved to be a runaway success. With a direct feed into Google Merchant orders came in within days of the site going live and continue to grow steadily into the new year.
Testimonial
"I never knew that building a new website for our company would be so easy. Working with Webphoria has been an absolute pleasure. Everything we ask for is done quickly. and nothing is too much to ask! Our website is packed full of exciting features, each one of them custom built to our specification. With our website rapidly growing I know we are in great hands for the future!"
Alex